This project took aim at creating a sustainable off-grid Kangaroo meat harvesting business model for remote communities living on Country.  Utilising Black Stumps 'Kanaga Koolers' to provide a low cost cold chain solution, it was proposed that Indigenous communities could leverage  thier Kangaroo hunting knowledge and practises to create a sustaible meat supply business,  as well as improving economic employment opportunities within the community.
Gemma's industry analysis identified that species of kangaroos now exist in large numbers and are significantly more widespread than previous. The increase in kangaroo population size and densities cause conflict with various land uses. When this occurs, it can result in detrimental implications economically, environmentally and socially. To mitigate these issues state government environmental agencies allows for the commercial harvest of the three common kangaroos. Each state and territory have yearly quotas for kangaroos that are permitted to be harvested.
Gemma's proposed business opportunity aims to establish kangaroo harvesting facilities for Indigenous Australian communities that have access to large stocks of kangaroos on their land to produce and sell kangaroo to supermarket supplying companies and restaurants. The idea of kangaroo harvest on Indigenous land is a business aimed to promote income earning opportunities at the grass roots community level, produce sustainable meat for the food industry and contribute to Government agencies meeting their kangaroo number reduction quotas.
Gemma's study then tackled the "Cold Chain" problem.
After slaughter carcass temperature changes. To prevent contamination and disease of the carcass, game meat must be placed under refrigeration within two hours and deep muscle temperature of seven degrees Celsius reached as soon as possible but no longer than 24 hours after being refrigerated. A cold chain problem exists in the proposed business plan as remote Indigenous communities are mostly off-grid and either do not have access to game meat harvest chillers or are prohibitively expensive to operate. Black Stump can offer a solution by implementing 'Kanga Koolers' to create a sustainable off-grid business for communities living on country that have access to large kangaroo stocks. Currently there is no alternative in action, which leaves opportunity to create an off-grid green business that produces sustainable meat source while providing income for Indigenous communities.
Image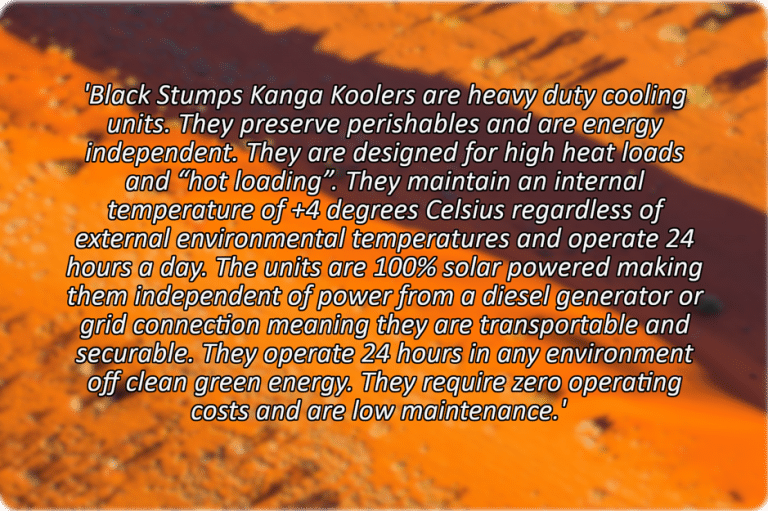 After deep diving on solid industry data on existing and proposed solutions, Gemma concluded that Black Stump Solar Kanga Koolers can create a sustainable off-grid business for communities living on country that have access to large kangaroo stocks. Kangaroos can be harvested sustainably and then kept in the solar powered cold storage for transport to processing facilities. It has been shown that the Black Stump cold chain option will generate a greater profit after two years compare to the alternative diesel options. This sustainable business model would preserve and encourage Indigenous knowledge and hunting practices as well as improving economic and employment opportunities.